Shocking New Study Shows Why Not All San Ramon Boot Camps Are Created Equal
Have you ever wondered why so many boot camps in the San Ramon area are just not effective in helping people really lose weight, build muscles, and stay fit?
A recent study has produced stunning data that confirms the disappointment of
over 90%
of the fitness centers that offer a boot camp program. The research and analysis was broken down even further to find out exactly what the reasons are for the widespread ineffectiveness.
One of the major areas of concern is the attitudes of the trainers that run the bootcamps. Client feedback indicates an overall arrogance or lack of empathy for people, which makes the group training less enjoyable and in turn, produces less motivation and less results. Besides personality, several comments were made about the lectures given at the camps.
Another problem seems to be the length of the training sessions. Bootcamp training in general should consist of
shorter workouts
, but the majority of people talked to were discouraged by the hour and half to two hour programs they were doing. This of course makes it very difficult to fit into a normal busy schedule, and again, prevents people from exercising.
On a technical note, most of the actual boot camp routines were closely examined in order to determine why they did not inspire weight loss and muscle building. It was discovered that over 50% of them were
only using 1 type of workout
, while slightly over 40% were alternating between two different programs. The problem with this is that a bootcamp training program
must include three elements
to deliver fast results: cardio, weight, and core training. Because so many fitness clinics in and around Southern California are only using cardio, or cardio and weight exercises, they are simply not working as well as they should be.
In fact, only one San Ramon boot camp incorporates
all three types of exercise
, and that is Mark Rogers' Blazin' Bodies Boot Camp. It's no surprise that Mark is also the area's
most respected trainer
and has the highest success rate in the Tri-Valley. The study concluded that the clients of the Blazin' Bodies Boot Camp had experienced
dramatic results after only the first week
, and they continued to maintain their ideal weight and fitness level on a long term basis.
So what is Mark's secret and what has he discovered that other trainers have not? As mentioned above, the Blazin' Bodies Boot Camp utilizes a combination of cardio, weight, and core training to
maximize the benefits
of each workout. Plus, Mark uses only those exercises that work, and changes them so that the routines are never predictable, leading the muscles to react with
each and every movement
. It also keeps his clients motivated because they are having so much fun. The workouts are
short and intense
, and last for no more than an hour so they can easily be adapted to anyone's busy schedule.
And Mark does not give lectures or talk in a condescending tone. He does however give the
absolute best guarantee
in the country, called the Body Fit For Life Guarantee, which states that if you
ever
gain any weight after completing one of his bootcamps, you can come back and train for
free
.
All of this and a
customized nutrition plan
have made Mark the
most referred trainer in San Ramon
. Here are just some of the responses we received when asking local people about the
Blazin' Bodies Boot Camp program
.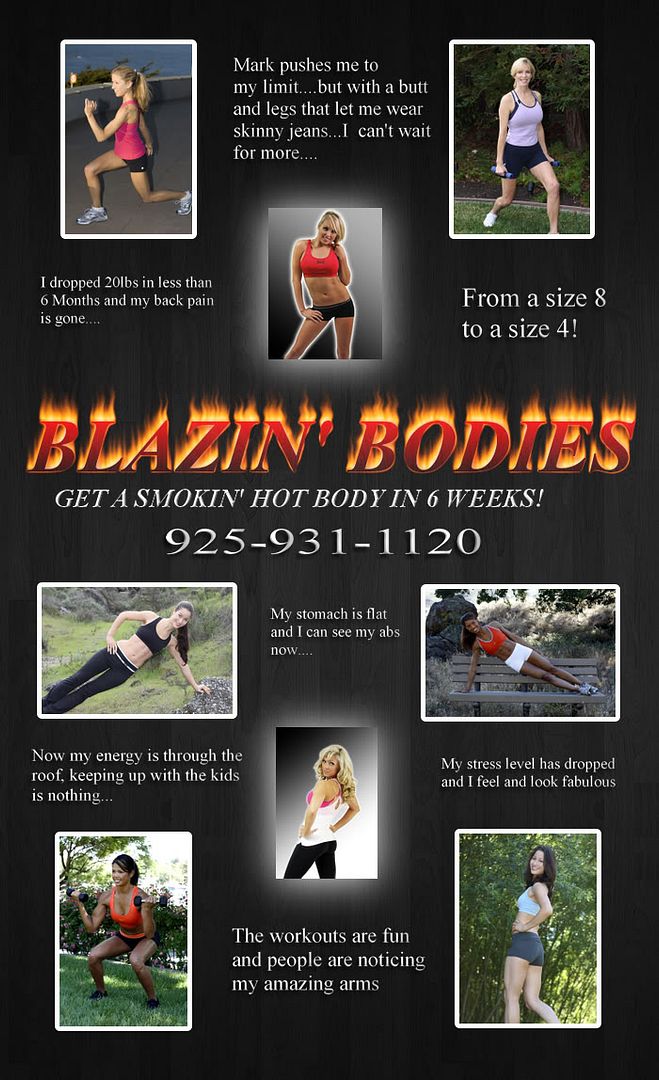 On top of everything else, Mark has even stated that he purchases a
brand new pair of designer "skinny" jeans
for every person that finishes his boot camp. That's a lot of incentive!
The only downside to Mark's boot camps are that the word is getting out and they are filling up faster than ever, so if you are
serious
about getting in the
best shape of your life
and staying there, you need to make an appointment as soon as possible. Fortunately, Mark has anticipated the success of his program and is currently making plans to add more classes, but there is no telling how long even those spaces will last.
Make your call today to reserve your space! 925-931-1120
If you would like more information or details about the exclusive
Blazin' Bodies Boot Camp in Dublin
, or
his Personal Training in Danville
feel free to call us at (925) 931-1120.